Testimony Series 2021-2
3 novembre 2021 @ 18 h 30 min

-

20 h 00 min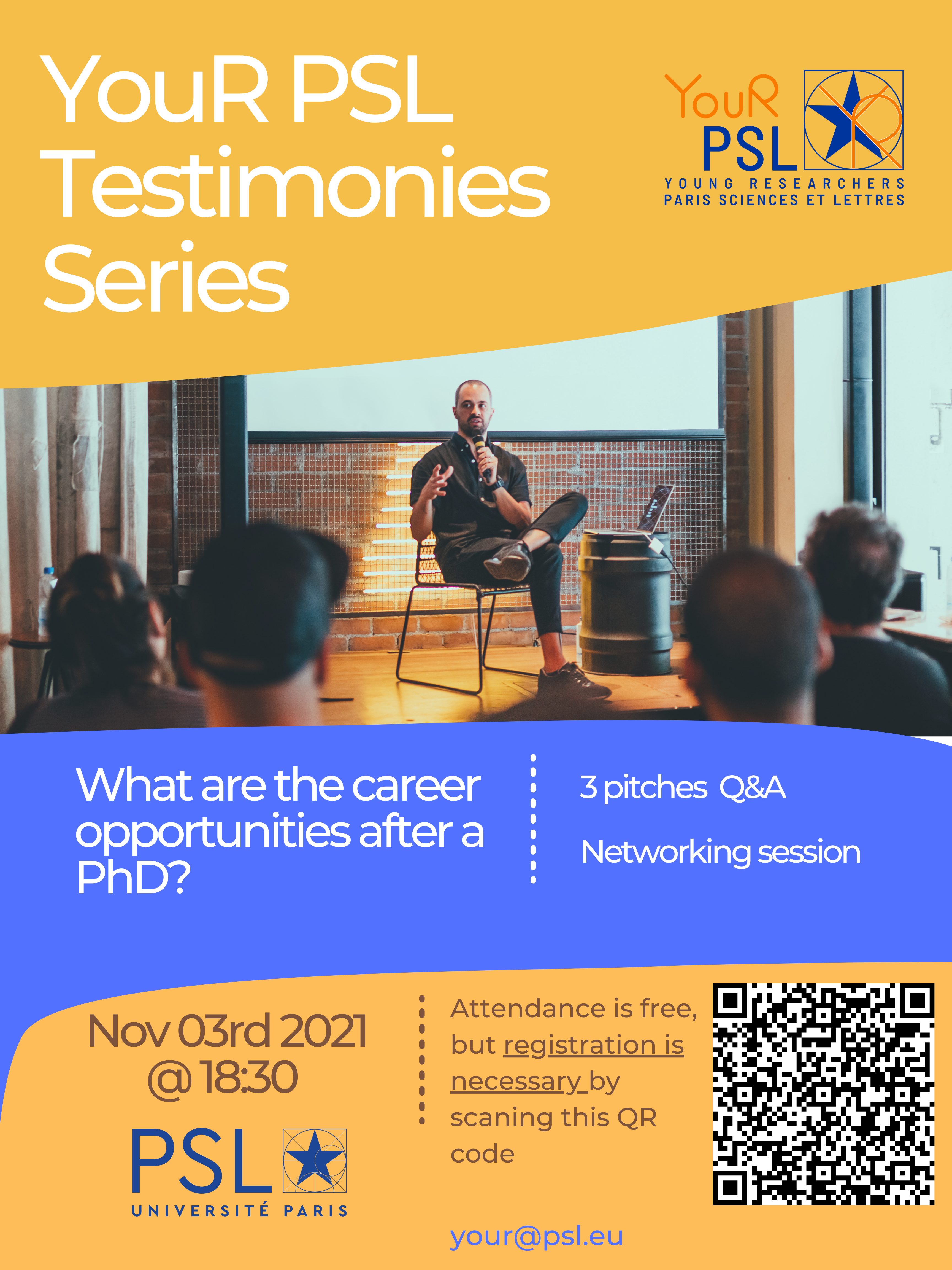 Testimont Series : Special Entrepreneurship
Les YouR PSL Testimonies Series sont des évènements (en ligne) organisés par l'association des jeunes chercheurs de PSL (YouR PSL) pour les doctorants, masters, et postdocs, souhaitant découvrir leurs possibilités de carrière avec un doctorat en poche. Chaque évènement est une excellente opportunité de rencontrer de jeunes professionnels et de développer un réseau pour construire sa carrière.
Au programme : une table ronde où 3 entrepreneurs partageront leurs expériences respectives, puis une session de networking où vous pourrez échanger librement avec les intervenants en petits groupes et entre vous.
Le prochain évènement aura lieu le Mercredi 03 novembre 2021 à 18h30. L'inscription est gratuite mais obligatoire via ce formulaire. Vous pourrez suivre les nouveautés de l'évènement sur Facebook.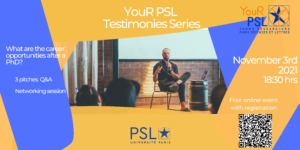 The YouR PSL Testimonies Series is an online event organised by the Young researchers' society of PSL for MA and PhD students, as well as early-career researchers, exploring future career opportunities. This particular event will provide you an exceptional opportunity to connect with distinguished panelists and develop a network to forge your career.
The first part of the program will be a moderated round table where three entrepreneurs will share their career paths as young researchers and Q&A . The second part of the event will be an interactive discussion, including focus groups in break-out rooms, and a final group discussion.
The next event of the series will be on 3rd November 2021 at 18:30 CET. Participation is free with  mandatory registration using the following link. You can follow the event on Facebook.
Meet our guests :