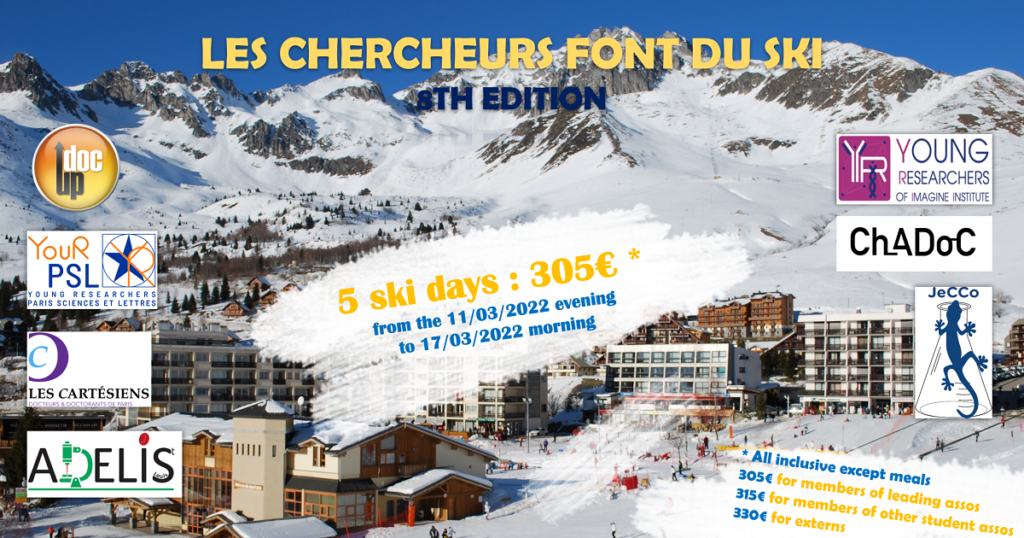 [english below]
Bonjour à toutes et à tous!
Merci d'avoir été si nombreux à être intéressés par le voyage au ski jeunes chercheurs! Les inscriptions pour les membres de YouR PSL commenceront donc cette semaine : un lien pour le paiement en ligne vous sera communiqué (aux adhérents s'étant pré-inscrits dès lundi 8/11, et le reste des adhérents 24h le lendemain) . Il n'y a que 10 places pour les adhérents à YouR PSL (et autant pour les ChADoCs et chaque association), premier arrivé premier servi! Les inscriptions pour les membres d'autres associations et extérieurs seront organisées ultérieurement en fonction des places disponibles.
Pour vous inscrire, veuillez télécharger et compléter le document suivant à télécharger. Veuillez le scanner en un document .pdf qui vous sera demandé au moment de l'inscription en ligne. Pensez à vérifier que vous serez à jour de cotisation au moment du voyage (et de votre inscription) et que vous aurez votre carte bancaire.
* Nous vous conseillons vivement de prendre l'assurance "tout compris" qui couvre en particulier l'annulation de votre voyage si vous êtes diagnostiqué positif au covid avant le voyage.
* Les couples sont dès à présent acceptés à condition qu'au moins une des deux personnes soit adhérente à jour de cotisation au moment du voyage (contactez-nous directement).
Posez-nous toutes les questions que vous souhaitez, mais avant de payer! Nous nous réservons le droit d'annuler votre inscription (vous serez remboursés) en cas d'inscription incomplète ou erronée.
_ _ _ _ _
Thank you for being so many to be interested in the ski trip for young researchers! Registration for YouR PSL members will therefore start this week : a link for online payment will be provided (Monday 8/11 to members who pre-registered, and Tuesday for the other members) . There are only 10 places for YouR PSL members (and as many for ChADoCs), first come first served! Registration for members of other and external associations will be arranged at a later date depending on the places available.
To register, please download and complete the following document to download. Please scan it into one document .pdf which will be requested at the time of online registration. Be sure to check that your membership will be up to date at the time of the travel (and of the registration) and that you will have your credit card with you.
* We strongly advise you to take out "All Inclusive" insurance, which specifically covers cancellation of your trip if you are diagnosed with COVID prior to travel.
* Couples are already accepted provided that at least one of the two persons is a current YouR PSL member at the time of travel (please contact us).
Ask us any questions you want, but before you pay! We reserve the right to cancel your registration (you will be refunded) in the event of incomplete or incorrect registration.
ADELIS, ChADoC, Doc'Up, JeCCo, Les Cartésiens, YouR PSL & YR2I for the Ski InterAsso