YouR PSL Testimonies series- Episode 1
10 juin 2021 @ 20 h 00 min

-

21 h 30 min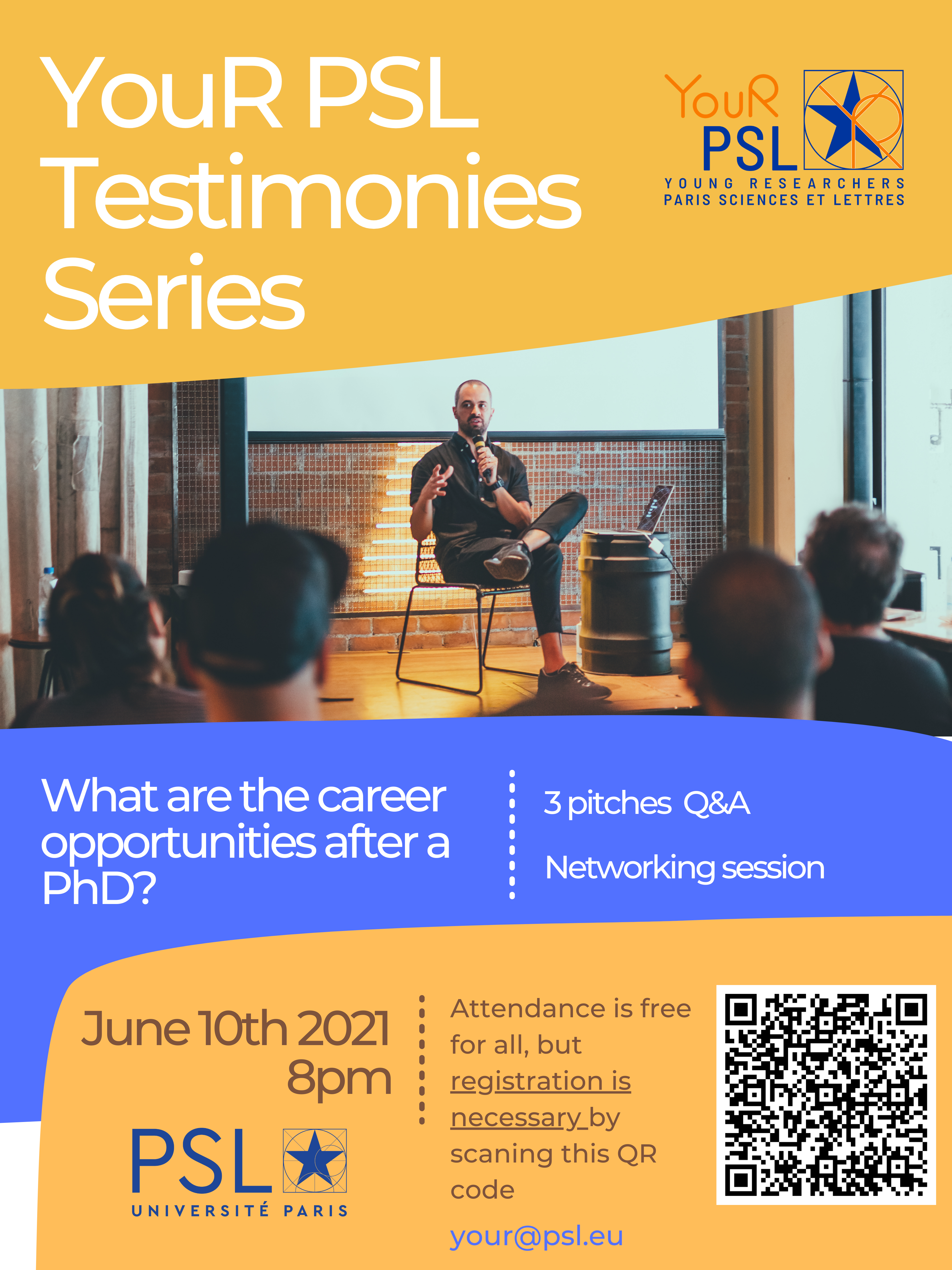 [english below]
Les YouR PSL Testimonies Series sont des évènements (en ligne) organisés par l'association des jeunes chercheurs de PSL (YouR PSL) pour les doctorants, masters, et postdocs, souhaitant découvrir leurs possibilités de carrière avec un doctorat en poche. Chaque évènement est une excellente opportunité de rencontrer de jeunes professionnels et de développer un réseau pour construire sa carrière.
Au programme : une table ronde où 3 alumni de PSL partageront leurs expériences respectives, puis une session de networking où vous pourrez échanger librement avec les intervenants en petits groupes et entre vous.
Le premier évènement aura lieu le jeudi 10 juin 2021 à 20h00. L'inscription est gratuite mais obligatoire via ce formulaire. Vous pourrez suivre les nouveautés de l'évènement sur Facebook.
_ _ _ english version _ _ _
The YouR PSL Testimonies Series is an online event organised by the Young researchers' society of PSL (YouR PSL) for MA and PhD students, as well as early-career researchers who are looking to explore future career opportunities.. This event will provide you an exceptional opportunity to connect with distinguished panelists and develop a network to forge your career.
The first part of the program will be a moderated round table where three PSL alumni will share their career paths as young researchers and Q&A . The second part of the event will be an interactive discussion, including focus groups in break-out rooms, and a final group discussion.
The first event of the series will be on 10th June 2021 at 20:00 CET. Participation is free with  mandatory registration using the following link. You can follow the event on Facebook.

Heni Abida, Business strategy Lead @ Rakuten Medical
With a PhD in Biotechnology, Genetic engineering and Metabolic networks from ENS-PSL, and MA in Management from Collège des Ingénieurs, Heni has achieved an extensive and well-rounded career, which has led him to his current position of Business Strategy Lead at Rakuten Medical.
Sarah Christoph, Scientific Mediator @ Universcience
As an engineer from ESPCI-PSL, Sarah has graduated with a  PhD project in  physico-chemistry of materials applied to biological processes from College de France. She is currently a scientific mediator, carrying out missions at the Palais de la Découverte.
Slava Mazlin, Cofounder @ SharpEye
During his PhD from ESPCI-PSL Slava created an optical device able  to diagnose in a non-invasive fashion disorders in the eye. Realising the potential this device might have on the health sector by way of  business competitions like i-PhD, he set on the career path of an entrepreneur.