Professional Afterwork 2021/5
24 November 2021 @ 19 h 00 min

-

20 h 30 min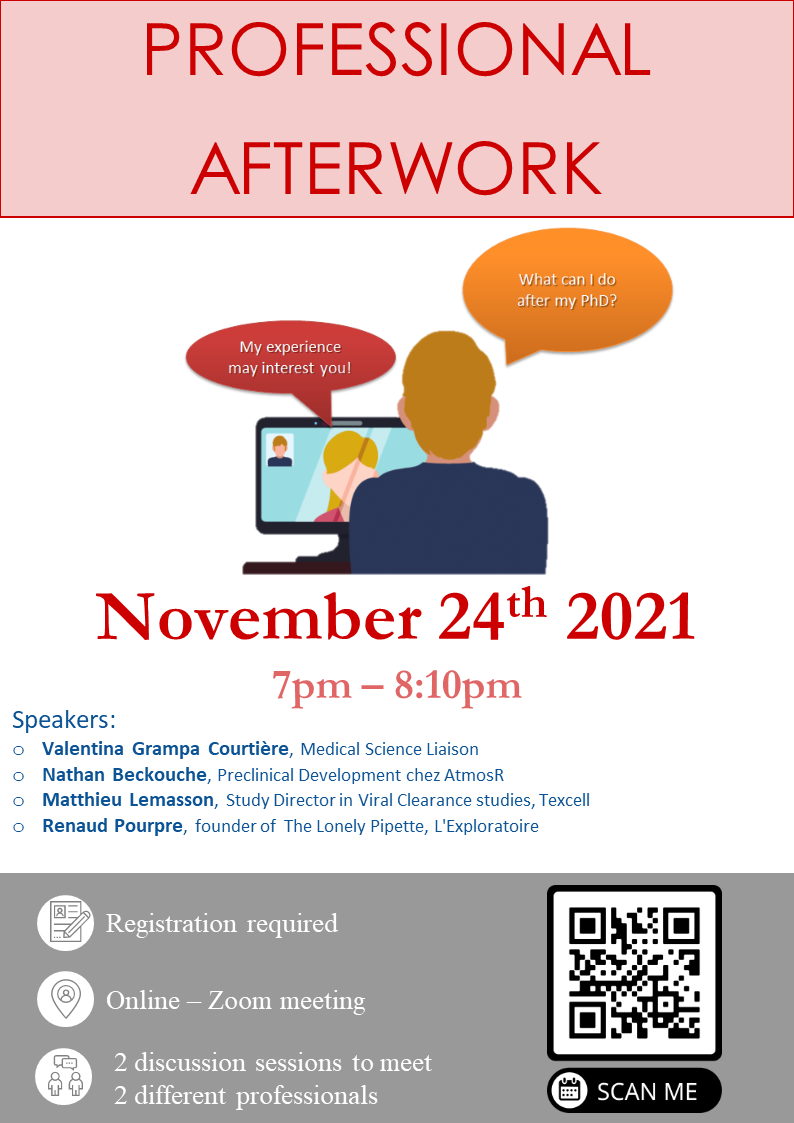 —— English version below ——
Bonjour à tou.te.s,
Après une pause estivale, les Petits Déjeuners Professionnels reviennent sur Zoom !
C'est l'occasion, pour vous, de discuter avec des docteur.e.s qui ont choisi un parcours professionnel hors académique après la thèse, lors d'un moment privilégié et convivial.
Pour cet évènement qui ne peut se faire en présentiel, les associations ADELIS, ChaDoC, YR2I, Doc'Up, JeCCo, BioDocs, StaPa, ADIC, YouR PSL et Les Ajités vous donnent rendez-vous le mercredi 24 novembre de 19h à 20h10 pour un Afterwork professionnel, en ligne (le lien Zoom vous sera envoyé quelques jours avant).
Cet évènement est fait pour les jeunes chercheur.se.s, c'est donc le moment de noter cette date dans votre agenda ! Nous ouvrons les inscriptions.
Cliquez ici pour vous inscrire
Ils ont déjà confirmé leur venue:
Valentina Grampa Courtière a soutenu sa thèse sur les ciliopathies rénales à l'Institut Imagine en 2015. A la suite de ses 2 post-doc à l'Institut Imagine puis à l'Institut du Fer à Moulin à Paris, elle a intégré Ipsen, une industrie pharmaceutique, il y a 2 ans. Après avoir eu plusieurs postes différents dans les affaires médicales au sein de cette entreprise, Valentina est aujourd'hui Medical Science Liaison, avec une expertise sur les traitements anticancéreux du rein et de la prostate, et est en charge des régions Auvergne Rhône – Alpes et Bourgogne Franche Comté.
Nathan Beckouche a obtenu sa thèse en 2013, après avoir passé 3 ans au Collège de France à travailler sur l'angiogenèse. Il a ensuite effectué un post-doc à l'UCSF Medical Center de San Francisco avant de sortir du parcours académique classique. Après avoir travaillé quelques mois dans l'entreprise privée Alexion en tant que chef de projet sur la découverte de nouveaux médicaments, il a été pendant plus de 3 ans consultant auto-entrepreneur dans ce même domaine d'expertise. Nathan est aujourd'hui co-fondateur et directeur du développement pré-clinique chez AtmosR, une entreprise de biotechnologies développant des traitements innovants pour les maladies rares du système nerveux central.
Matthieu Lemasson a réalisé une thèse au sein du laboratoire du Dr. Arielle ROSENBERG en 2015 sur le détournement du métabolisme lipidique hépatocytaire par le VHC (exemple de la lysophosphatidylcholine acyltransférase 1) suivi d'un contrat post doctoral au sein de ce même laboratoire. Par la suite il a poursuivi son parcours par un poste d'ingénieur de recherche à l'Institut National de la Transfusion Sanguine (INTS, Paris) sur l'identification du mécanisme antiviral d'oligonucléotides anti-sens sur la sécrétion des particules virales VHB & VHD. Puis un nouveau poste d'ingénieur de recherche au sein de l'entreprise Sleep Apnea Innovation (SABI, ROMAINVILLE) sur l'Identification des marqueurs moléculaires de l'apnée du sommeil en vue du développement d'un kit de diagnostic clinique s'est présenté à lui. Actuellement, il exerce à Texcell un poste de directeur d'étude dans une entreprise spécialisée en sécurité virale.
Renaud Pourpre a obtenu sa thèse en 2019 à l'INRAE (Paris-Saclay), où il a étudié les conséquences épigénétiques des infections bactériennes. Pendant sa thèse, il organise des événements de médiation scientifique tels que le "Pint of Science Festival". Depuis, il s'est engagé pleinement dans la vulgarisation et la sensibilisation aux Sciences, d'abord en tant que chargé de mission au sein du Ministère de l'Enseignement Supérieur et de la Recherche, puis en se lançant en freelance dans la communication audiovisuelle. Il dirige notamment deux podcasts, The Lonely Pipette, qu'il anime avec Jonathan Weitzman et à destination des chercheurs, et "Quand le Crime Parle", un podcast grand public du magazine Science et Vie. Enfin, il travaille actuellement au lancement de son nouveau projet, "Cell Worlds", qui combine documentaire et exposition immersive.
Pour retrouver les profils de nos invités, rendez-vous sur Twitter et Facebook 
En espérant vous voir nombreux.ses !
L'équipe des Petits Déjeuners Professionnels
————————
Hello to all,
After a summer break, the Professional Breakfasts continue their event on Zoom !
This is an opportunity for you to talk with doctors who have chosen a professional course outside the academic after the thesis, during a privileged and friendly moment.
For this event which cannot be done in person yet, the associations ADELIS, ChADoC, YR2I, Doc'Up, JeCCO, BioDocs, Stapa, ADIC, YouR PSL and Les Ajités will meet you on Wednesday, November 24th from 7 to 8:10 pm, online (the Zoom link will be sent to you a few days before).
This event is made for young researchers, so it's time to mark this date in your agenda! We are now opening the registration process.
They have already confirmed their arrival:
Valentina Grampa Courtière defended her PhD on renal ciliopathies at the Imagine Institute in 2015. Following her 2 post-docs at the Imagine Institute and then at the Institut du Fer à Moulin in Paris, she joined Ipsen which is a pharmaceutical company 2 years ago. After having had several different positions in medical affairs within this company, Valentina is now Medical Science Liaison, with an expertise on anti-cancer treatments for kidney and prostate, and is in charge of the Auvergne Rhône – Alpes and Bourgogne Franche Comté regions.
Nathan Beckouche obtained his PhD in 2013, after spending 3 years at the Collège de France working on angiogenesis. He then did a post-doc at the UCSF Medical Center in San Francisco before leaving the classical academic path. After working for a few months in the private company Alexion as a project manager on drug discovery, he was for more than 3 years a self-employed consultant in the same field of expertise. Nathan is now co-founder and director of pre-clinical development at AtmosR, a biotech company developing innovative treatments for rare central nervous system diseases.
Matthieu Lemasson has defended a thesis in Dr. Arielle ROSENBERG lab in 2015 on the diversion of hepatocyte lipid metabolism by HCV (example of lysophosphatidylcholine acyltransférase 1) followed by a postdoctoral contract in this same lab. After that, he has worked as researcher engineer in Institut National de la Transfusion Sanguine (INTS, Paris) on the identification of antisense oligonucleotides antiviral mechanism on the viral particle secretion of HBV and HDV. A novel researcher engineer has followed in the company Sleep Apnea Innovation (SABI, ROMAINVILLE) on the identification of molecular markers of sleep apnea to develop clinical diagnostic kits. Now he is study director in Texcell, a company specialized on viral safety.
Renaud Pourpre did his PhD at INRAE (Paris-Saclay) on epigenetics consequences of bacterial infections and defended in 2019. During his PhD, he helped organize Science outreach events such as the "Pint of Science Festival". After graduating, he followed his passion for Science outreach; first in the French Government as a project manager in the Ministry of Research and Higher Education, then as a freelance communicator specialized in audio and video. He manages two podcasts, "The Lonely Pipette", that he hosts together with Jonathan Weitzman and that is geared towards scientists, and "Quand le Crime parle", a crime solving podcast geared towards a wider audience. He is now also working on the launch of his new project combining a documentary and an immersive exhibition, "Cell Worlds".
To find the profiles of our guests, go to Twitter and Facebook 
Hoping to see many of you!
The Professional Breakfast Team