Professional Afterwork 2021/4
23 September 2021 @ 19 h 00 min

-

20 h 30 min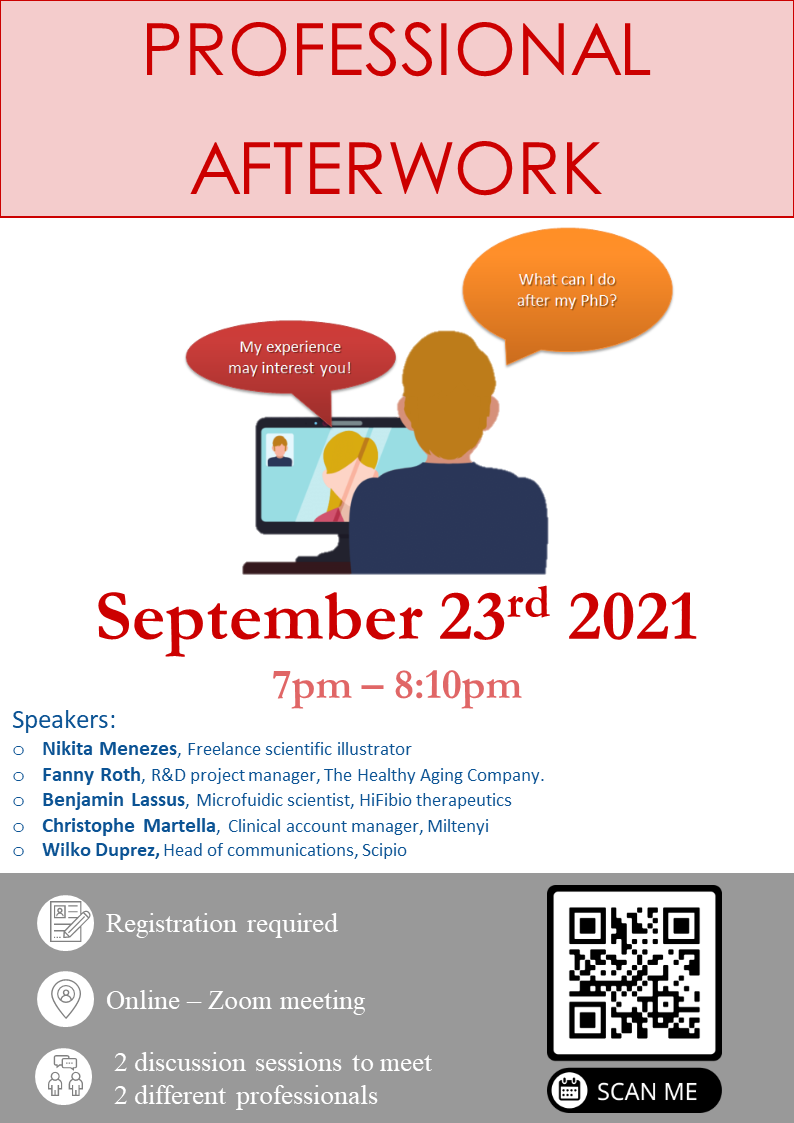 —— English version below ——
Les Petits Déjeuners Professionnels reviennent après l'été avec les évènements sur Zoom !
C'est l'occasion, pour vous, de discuter avec des docteur.e.s qui ont choisi un parcours professionnel hors académique après la thèse, lors d'un moment privilégié et convivial.
Pour cet évènement qui ne peut se faire en présentiel, les associations ADELIS, ChaDoC, YR2I, Doc'Up, JeCCo, BioDocs, StaPa, ADIC, YouR PSL et Les Ajités vous donnent rendez-vous le jeudi 23 septembre de 19h à 20h10 pour un Afterwork professionnel, en ligne (le lien Zoom vous sera envoyé quelques jours avant).
Cet évènement est fait pour les jeunes chercheur.se.s, c'est donc le moment de noter cette date dans votre agenda ! Nous ouvrons les inscriptions.
Cliquez ici pour vous inscrire
Ils ont déjà confirmé leur venue:
Fanny Roth a soutenu sa thèse sur la dystrophie musculaire oculopharyngée à l'Institut de Myologie en 2019. Depuis, elle est cheffe de projet R&D chez The Healthy Aging Company. Ses missions principales consistent en la recherche de financement, les missions de communication et de Business Development ainsi que les missions pré-cliniques comprenant notamment l'aide à la planification des expériences de laboratoire, le suivi et collecte des résultats et la rédaction des rapports d'activités.
Nikita Menezes a obtenu sa thèse en bioinformatique à l'ENS en 2019. Depuis elle s'est lancée en freelance en tant que graphiste et illustratrice scientifique indépendante. Elle propose ses services à la fois au secteur privé et académique pour créer des illustrations diverses, des supports marketings, une visualisation des données de recherche et des supports pour les réseaux  sociaux.
Christophe Martella a suivi un parcours académique classique lui permettant de réaliser sa thèse sur le virus HTLV-1 et la régulation transcriptionnelle impliquée dans l'expression de ce virus au sein de l'équipe Retrovirus, Infection et Latence à l'Institut Cochin.  Il a été recruté rapidement par Miltenyi Biotec en tant que clinical account manager dans le domaine de la thérapie génique et cellulaire.
Benjamin Lassus a soutenu sa thèse en neurosciences en 2016 à l'université Pierre et Marie Curie, développant une plateforme de microfluidique haut débit pour étudier l'activité calcique des réseaux de neurones. Il a fait un premier post-doctorat au CNRS lors duquel il optimise et caractérise des modèles de microfluidique pour étudier la physiologie des réseaux de neurones. Il fait une deuxième post-doctorat à  Columbia university (New York) sur des systèmes de microfluidiques permettant d'éviter la propagation des tauopathies dans des  modèles de culture cellulaire. Il est aujourd'hui microfluidic scientist chez HiFiBio à Paris.
Wilko Duprez a commencé par travailler dans l'industrie pharmaceutique aux Etats-Unis avant d'entreprendre une thèse en biochimie médicinale en Australie. C'est durant son doctorat qu'il se découvrira une vocation pour la communication de la science, animant des émissions de radio et des évènements de vulgarisation scientifique. Après deux courts post-docs, il saute le pas et complète un Master de Communication Scientifique au Collège Impérial de Londres, ce qui l'amènera à travailler en freelance notamment pour la BBC. Après un passage au Japon en tant que chargé de communication scientifique pour une jeune université, Wilko est devenu réalisateur de simulation scientifiques en réalité virtuelle pour Labster, une start-up basée au Danemark. Depuis septembre 2020, Wilko est le responsable de communications chez Scipio bioscience, une start-up en séquençage d'ARN basée à l'Institut du Cerveau.
Pour retrouver les profils de nos invités, rendez-vous sur Twitter et Facebook 
En espérant vous voir nombreux.ses !
L'équipe des Petits Déjeuners Professionnels
————————
Hello to all,
The Professional Breakfasts continue their event on Zoom !
This is an opportunity for you to talk with doctors who have chosen a professional course outside the academic after the thesis, during a privileged and friendly moment.
For this event which cannot be done in person yet, the associations ADELIS, ChADoC, YR2I, Doc'Up, JeCCO, BioDocs, Stapa, ADIC, YouR PSL and Les Ajités will meet you on Thursday, September 23th from 7 to 8:10 pm, online (the Zoom link will be sent to you a few days before).
This event is made for young researchers, so it's time to mark this date in your agenda! We are now opening the registration process.
They have already confirmed their arrival:
Fanny Roth defended her PhD on oculopharyngeal muscular dystrophy at the Institute of Myology in 2019. Since then, she has been R&D project manager at The Healthy Aging Company. Her main tasks consist of fundraising, communication and business development tasks as well as pre-clinical tasks including assistance in planning laboratory experiments, monitoring and collecting results and writing activity reports.
Nikita Menezes obtained her PhD in bioinformatics at the ENS in 2019. Since then she has been a freelancer as a graphic designer and scientific illustrator. She offers her services to both the private and academic sector to create various illustrations, marketing materials, research data visualization and social media materials.
Christophe Martella has followed an academic track before starting a thesis on HTLV-1 associated Adult T cell leukemia and the transcriptional regulation involved in HTLV-1 provirus expression in the Retrovius, infection and latence lab in Cochin Institute. After that, he was recruited by Miltenyi Biotec as Clinical account manager cell and gene therapy.
Benjamin Lassus defended his PhD in 2016 at Université Pierre et Marie Curie, during which he developed a high high-throughput microfluidic platform to study neuronal network calcium activity. He then did a Post-doctoral fellowship at CNRS, learning and optimizing microfluidic fabrication processes. He did a second post-doc at Columbia University (New York), where he worked on preventing the propagation of tauopathies in the CNS using microfluidic devices. He is now microfluidic scientist at HiFiBio, Paris.
Wilko Duprez began working in the pharmaceutical industry in the United States before undertaking a PhD in medicinal biochemistry in Australia. It was during his PhD that he discovered a vocation for science communication, hosting radio shows and science popularization events. After two short post-docs, he took the plunge and completed a Master's degree in Science Communication at Imperial College London, which led to freelance work for the BBC. After a stint in Japan as a science communication officer for a young university, Wilko became a virtual reality science simulation director for Labster, a start-up based in Denmark. Since September 2020, Wilko has been the communications manager at Scipio bioscience, an RNA sequencing start-up based at the Brain Institute.
To find the profiles of our guests, go to Twitter and Facebook 
Hoping to see many of you!
The Professional Breakfast Team