Afterwork Professionnel (28/6)
28 June 2021 @ 19 h 00 min

-

20 h 30 min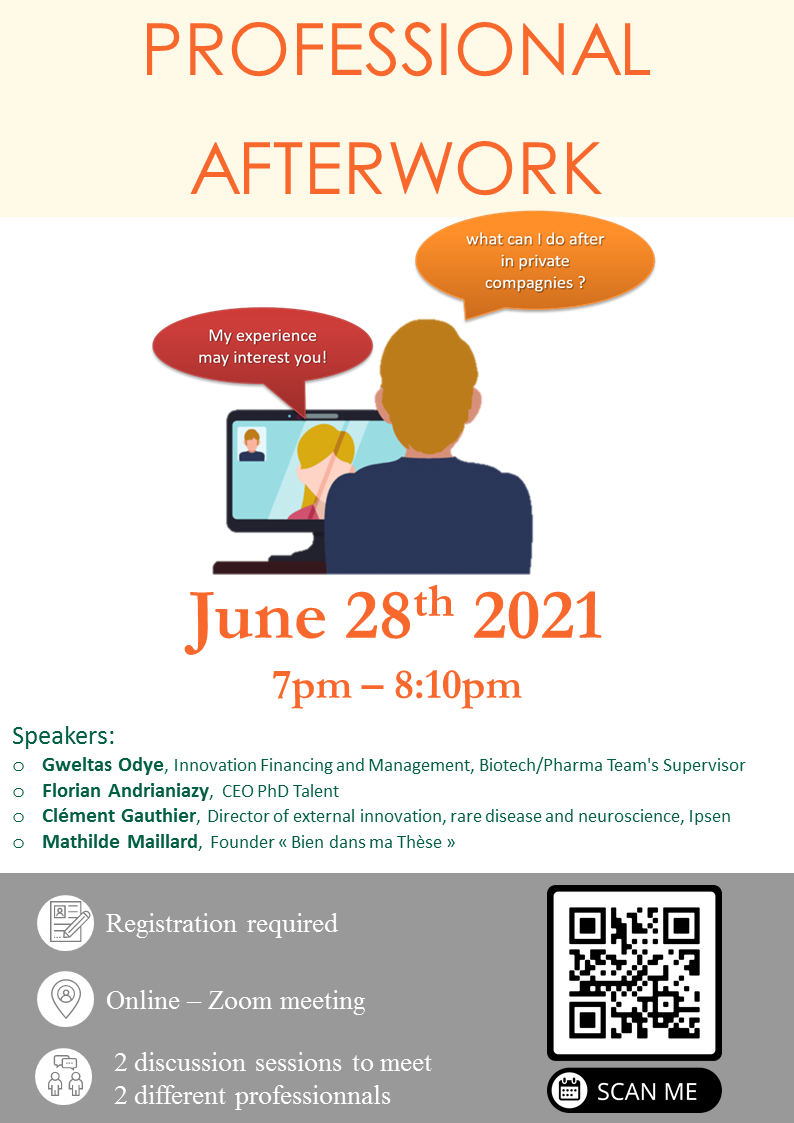 —— English version below ——
Les Petits Déjeuners Professionnels poursuivent leurs évènements sur Zoom !
C'est l'occasion, pour vous, de discuter avec des docteur.e.s qui ont choisi un parcours professionnel hors académique après la thèse,  lors d'un moment privilégié et convivial.
Pour cet évènement qui ne peut se faire en présentiel, les associations ADELIS, ChaDoC, YR2I, Doc'Up, JeCCo, BioDocs, StaPa, ADIC, YouR PSL et Les Ajités vous donnent rendez-vous le lundi 28 juin de 19h à 20h10 pour un Afterwork professionnel, en ligne (le lien Zoom vous sera envoyé quelques jours avant).
Cet évènement est fait pour les jeunes chercheur.se.s, c'est donc le moment de noter cette date dans votre agenda ! Nous ouvrons les inscriptions.
Cliquez ici pour vous inscrire
Ils ont déjà confirmé leur venue:
Florian Andrianiazy a obtenu sa thèse en physique en 2015 après un doctorat CIFRE effectué entre le centre de recherche de Thalès et le laboratoire de physique des interfaces et couches minces à l'Ecole Polytechnique. Après une longue expérience associative du monde des jeunes chercheurs, il co-fonde PhDTalent en 2017 dont l'objectif est d'accélérer le rapprochement entre le monde académique et les entreprises à travers des missions réalisées en freelance par des chercheurs, du recrutement et des événements.
Gweltas Odye a soutenu sa thèse sur les ciliopathies rénales à l'Institut Imagine en 2018. Depuis, il s'est spécialisé dans le conseil en innovation. A l'interface des problématiques scientifiques et de financement en terme de R&D et d'innovation, il est actuellement consultant au sein du pôle scientifique dédié au financement de l'innovation de KPMG Avocats (KPMG Global), et accompagne quotidiennement les entreprises françaises et internationales dans le financement de leurs projets d'innovation.
Mathilde Maillard est en troisième année de doctorat de matériaux au laboratoire Mateis de l'Insa Lyon, une unité mixte de recherche Insa Lyon, Université Claude Bernard Lyon 1 et CNRS. Elle crée en juin 2020 son premier podcast de "Bien dans ma thèse", suivi d'une série de podcasts et de vidéos pour remédier au manque d'information et d'accompagnement sur le doctorat. Elle se diversifie rapidement en lançant un site internet, une chaîne Youtube et Twitch et signe son partenariat avec Bpifrance pour promouvoir i-PhD, un concours destiné aux doctorants.
Clément Gautier est directeur de l'innovation externe au département maladies rares et neurosciences à Ipsen. Il obtient son doctorat en biophysique en 2005 au Laboratoire d'optique et de biosciences de l'Ecole Polytechnique. Il a ensuite passé cinq ans en post doctorat à Harvard au Brigham and Women's Hospital pour étudier les dysfonctionnements mitochondriaux dans des modèles animaux et cellulaires de la maladie de Parkinson. De retour en France, il a travaillé à l'Institut du cerveau de Paris en tant que chercheur pendant deux ans. De là, il a été recruté chez Servier où il a dirigé une équipe travaillant sur de nouveaux essais cellulaires pour la découverte de médicaments et de nouvelles cibles dans les maladies neurodégénératives. Chez Servier, il devient ensuite directeur de la recherche externe et de l'innovation au sein du département Neurosciences, avant d'occuper son poste actuel chez Ipsen.
Pour retrouver les profils de nos invités, rendez-vous sur Twitter et Facebook 
 _ _ _ English version _ _ _
The Professional Breakfasts continue their event on Zoom !
This is an opportunity for you to talk with doctors who have chosen a professional course outside the academic after the thesis, during a privileged and friendly moment.
For this event which cannot be done in person yet, the associations ADELIS, YR2I, Doc'Up, JeCCO, BioDocs, Stapa, ADIC, YouR PSL and Les Ajités will meet you on Monday, June 28th from 7 to 8:10 pm, online (the Zoom link will be sent to you a few days before).
This event is made for young researchers, so it's time to mark this date in your agenda! We are now opening the registration process.
They have already confirmed their arrival:
Florian Andrianiazy obtained his PhD in physics in 2015 after a CIFRE PhD carried out between the Thalès research centre and the laboratory of interface physics at the Ecole Polytechnique. After a long experience in the world of young researchers, he co-founded PhDTalent in 2017, whose objective is to accelerate the connection between the academic world and companies through freelance missions by researchers, recruitment and events.
Gweltas Odye defended his PhD on renal ciliopathies at the Imagine Institute in 2018. Since then, he has specialised in innovation consulting. At the interface of scientific and financing issues in terms of R&D and innovation, he is currently a consultant within the scientific pole dedicated to innovation financing of KPMG Avocats (KPMG Global), and assists French and international companies on a daily basis in financing their innovation projects.
Mathilde Maillard is in her third year of PhD in materials at the Mateis laboratory of Insa Lyon, a mixed research unit from Insa Lyon, Université Claude Bernard Lyon 1 and CNRS. In June 2020, she created her first podcast of "Bien dans ma thèse", followed by a series of podcasts and videos to remedy the lack of information and support on the PhD. She quickly diversified by launching a website, a Youtube channel and Twitch and signed her partnership with Bpifrance to promote i-PhD, a competition intended for doctoral students.
Clément Gautier is director of external innovation in the department of rare diseases and neurosciences at Ipsen. He got his PhD in Biophysics in 2005 in the Laboratory for Optics and Biosciences at Ecole Polytechnique. He then spent five years as a postdoctoral fellow in Harvard Medical School at the Brigham and Women's Hospital to study mitochondrial dysfunctions in animal and cellular models of Parkinson's disease. Back in France, he worked at the Paris Brain Institute as a research scientist for two years. From there he was recruited at Servier where he led a team working in novel cellular assays for drug discovery and novel targets in neurodegenerative diseases. At Servier, he became director of external research and innovation in the Neuroscience department, before going into his actual position at Ipsen.
To find the profiles of our guests, go to Twitter and Facebook